Machu Picchu in One Day from Cusco
Around 4:00am pick you up at your hotel in Cusco, then we will go to Ollantaytambo to take the train to take us to Aguas Calientes. Departure is at 6:40am and will be at 8:40am in Aguas Calientes.
Upon arrival, we will take the bus to take us to Machu Picchu. At the entrance, we will meet our guide who will accompany us for a 2.5-hour showing the spectacular Incas city.
After the guided tour...
Around 4:00am pick you up at your hotel in Cusco, then we will go to Ollantaytambo to take the train to take us to Aguas Calientes. Departure is at 6:40am and will be at 8:40am in Aguas Calientes.
Upon arrival, we will take the bus to take us to Machu Picchu. At the entrance, we will meet our guide who will accompany us for a 2.5-hour showing the spectacular Incas city.
After the guided tour we'll give you free time to explore Machu Picchu on your own and take stunning photographs of this great energetic place. At the end of the afternoon, you will have to take the bus to Machu Picchu to Aguas Calientes, figuring that should be 30 minutes before the departure of our train back to Ollantaytambo.
In Ollantaytambo you will be waiting for the bus that will pick you up to go back to Cusco.
The end of the trip will be in the Plaza de Rejoicing of Cusco.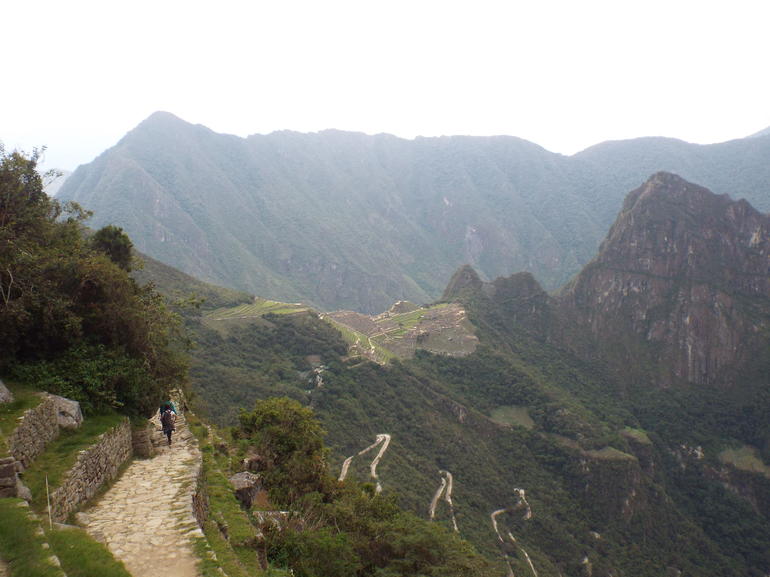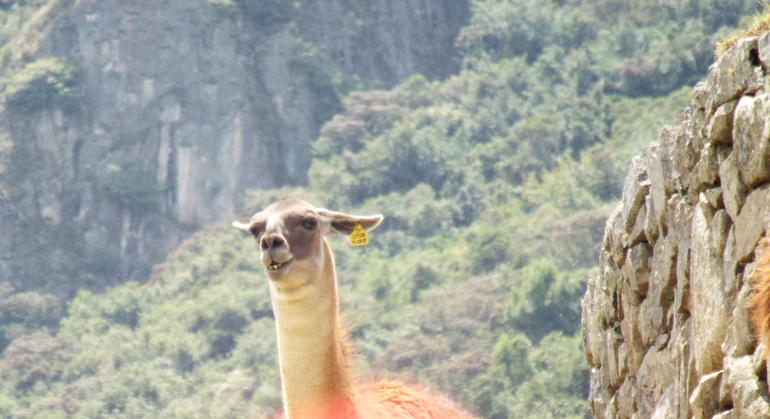 Machu Picchu in One Day from Cusco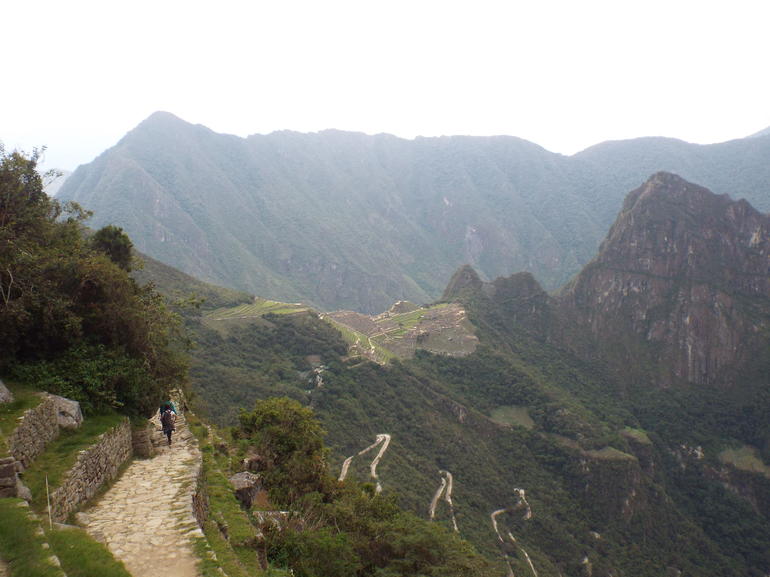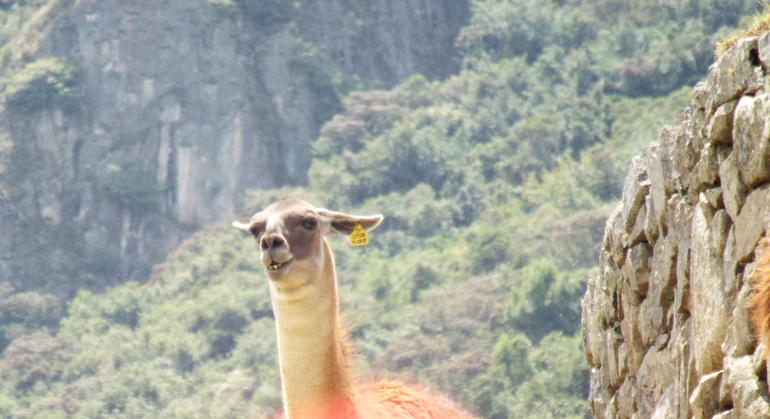 Important Details
Included
Professional bilingual guide (English and Spanish)
Entry/Admission - Santuario Historico de Machu Picchu
All transfers hotel - train station - Cusco
Bus up and down the village of Aguas Calientes - Machu Picchu - Aguas Calientes.
Airport pickup
Not Included
International and domestic airfare
Travel insurance
Food and drinks
Not described in the itinerary
Gratuities
Departure Point
Traveler pickup is offered
We always pick you up from your hotel half an hour before ..


4:00am or 4:30am
Additional Info
Confirmation will be received at time of booking
Travelers should have a moderate physical fitness level
Children must be accompanied by their parents
A current valid passport is required on the day of the tour
It's recommended to bring water, sunglasses, block sun, camera and comfortable wear
We advise to carry Peruvian coins just in case
This tour/activity will have a maximum of 12 travelers
Voucher Requirements
You can present either a paper or an electronic voucher for this activity.
View Less
Cancellation Policy
All sales are final and incur 100% cancellation penalties.
Customer Reviews
---
Reviewed:
December 7, 2018
This was an excellent visit for me and my fiancé. We loved how our guide explained to us the history and the real meaning of the word Machu Picchu. Trust me when you find out you will be amazed as well. Anyway it's a must visit while in Cusco Peru.
---
Reviewed:
February 19, 2018
Summary: This is a really great, well organised trip. You could arrange the elements yourself but this tour offers great value and peace of mind for first time visitors. I recommend it highly. It was a great day for me.
So, firstly, this is a trip to Machu Picchu. I don't need to write about Machu Picchu. It's not as good as people say it is. It's better, way better. If you can go to Machu Picchu, go there.
I was a bit daunted by this trip. I visited Peru on my own for 4 days and didn't have time to acclimatise to the altitude in Cusco and walk the Inca trail or spend a night in Aguas Calientes, the town near Machu Picchu, so I decided to take a day trip.
I was a bit worried because I had read mixed reviews of this and similar tours and also because the tour starts at 3:30 am and you can expect to get back to Cusco at c.11:00pm. I also didn't have an entirely clear idea of what the tour involved and did and didn't include until I arrived.
The day before the tour, a representative of the operator contacted my hotel and arranged a time to visit me. He arrived in the evening and explained the itinerary for the next day very clearly . He spent a long time with me and answered all of my questions, as well as giving me my tickets and assigned seat coupons for the rail and minibus journeys the following day. He also gave me his phone number and said it was OK to call him at any time if anything went wrong on the day of the trip.
Here's what the tour entailed:
c. 4:00 - A minibus picked me up from the hotel. We stopped at a couple of hotels and then were driven to Ollantaytambo railway station. This was a fairly quick drive early in the morning and we got to see the sun rise as we crossed the plateau into the Sacred Valley.
We then travelled by train to Aguas Calientes. This was a great journey. We had assigned seats, the train was comfortable and the views were fantastic. There is a white glove service on the train with free hot or soft drinks and snacks and a paid for bar. The experience was great.
On arrival in Aguas Calientes, I was met in the station by a local guide whose name had been given to me the day before. He took me to the Machu Picchu Ticket office and bought me a ticket for entry to the site. He pointed out a nearby guide and told me to meet her at a point in the town square in an hour to be taken to the bus up to Machu Picchu. I had time to get some breakfast. There are plenty of good local restaurants.
We were then led to a bus that took us up to Machu Picchu, where, at about 10:00am, we met a guide who took us on a guided tour lasting a couple of hours. He was knowledgable and friendly.
When you finish the tour, you exit the site and can stamp your passport with a Machu Picchu stamp. You are then free to go back to town on the minibus or to reenter the site. I had lunch the restaurant and cafe are very good and went back in. If you re-enter, it is important to do so within 4 hours of your first entry, so don't lose track of time while buying souvenirs or having lunch.
After a great afternoon walking around Machu Picchu and up to the sun gate, I took the bus back to town. I had a couple of hours to kill before the train back to Ollantaytambo, but there is loads to do in Aguas Clientes.
The journey back was as slick as it was in the morning and I was met at Ollantaytambo by a taxi driver who took me back to the hotel in Cusco.
The tour organiser called me in the morning to make sure everything had gone well.

I was very satisfied overall. As I said, you could organise the taxis, buses, trains, tickets and guide yourself but it's probably a bit much to do before your first visit. It was great not to have to worry about anything and to be able to just enjoy Machu Picchu.
Not only was the tour good value for money overall, but the people involved were all very professional, knowledgable and friendly.
Five stars.
---
Reviewed:
November 7, 2017
Our trip was great!! Everything went perfect!!! We had enough time in between cities to relax a get food. I would recommend eati g or buying some food to go in Aguas Calientes before heading back to Cusco bc most stores are not open late.
Daniel helped us we all the details and paper work. Must DO!
---
Reviewed:
October 14, 2017
Pros:
- our guide Mr Cusmo was awesome and a funny guy. Cracking funny stories every here and then with utmost seriousness which sometimes made us believe that might had happened. :
Joel seem to be the nice person but he was with Spanish group. Interaction i had with him left a good impression of him.
This was the only good part!
Cons:
- Entrance and train tickets are booked by operators choice not yours as you wont be asked that what time you would like to visit Machu Picchu. I was in second batch for Machu Picchu which opens at 12 noon. And was given assuming last train out i.e. 9 PM in night.
- NO ONE WAS THERE AT 11:30 midnight to pick me up from Ollantaytambo station to Cuzco. After waiting for several mins that someone might come and assuming might be running late but no one showed up. After waiting in-vain i called up the local contact Mr Daniel and he said not to worry and stay there at station entrance as someone will come and pick me up but no one did. ALAS!!
Finally as i had to reach hotel because this town Ollantaytambo usually closes down by 5 PM and it was already 10 past midnight, there was a lady who was ferrying travelers local and tourist both. As I shared my ordeal with her she called up my tour operator and then a deal was struck between them and finally i was given a seat for Cuzco. Without knowing who she is and who all are in van travelling with me even to Cuzco or the cab will make some D-Tour as local people were also there not just me
Note for all travelers: This seem to be an erratic issue here as i wasnt one the only one who had this issue same night, we were 5 tourist from different part of globe who were left stranded at Ollantaytambo in midnight. One of the stranded ones she was a girl, her operator was so courteous enough that he/she switched off the phone number mentioned on the voucher she was given. Lady who seem to be operating the vans there was in no mood to lend the helping hand so i paid for her as it was just 5 and couldnt leave her in middle of nowhere crying. I frankly dont know how it can be avoided as we are literally at hands of the tour operators booked via the online portals.
---
Reviewed:
September 6, 2017
LOVED the experience, it was even better than I had anticipated. The tourist company contacted my hotel in Cusco to confirm location and pickup, AND they had the train tickets and Machu Picchu tickets already printed out and ready to go! The bus came on time in the early morning, which took us to the train station. The train was very comfortable and came with complimentary drinks water, tea, coffee and snacks. Once we got to the entrance of Machu Picchu, we found our tour guide. The tour guide was very knowledgeable, friendly, and spoke English well. The tour itself lasted about 2 to 3 hours, with plenty of opportunity to take pictures. Also, you are allowed to re-enter once more after you exit, if you do want to take more pics or just enjoy the beautiful scenery, or hike one of the other shorter trails the shorter trails within the area took about 40-60 min round trip. I would do it again in a heartbeat. Definitely worth the time and money.
---